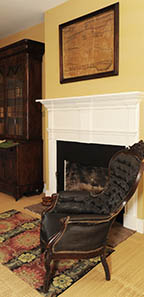 ABOUT US
The museum's goal is to preserve Jackson's former home and its collections, and to educate the public by interpreting the life, character, and times of Thomas J. "Stonewall" Jackson. Special emphasis is placed upon his life as a professor, church leader, businessman, husband, and community leader during the decade that he lived in Lexington and taught at the Virginia Military Institute before the American Civil War.
Since 1954, Jackson's Lexington home, located a block east of Main Street, has been a museum and historic site. In 1979 the house was carefully restored to its appearance at the time of the Jacksons' occupancy. The house, which is listed on the National Register of Historic Places, is furnished with period pieces, including many of Jackson's personal possessions, and is open to the public for guided tours of the period rooms. The house is owned and operated by the Virginia Military Institute.
Click here for more information about the Virginia Military Institute's acquisition of the Stonewall Jackson Foundation.
Learn more about our sister museums: Virginia Military Institute Museum and Virginia Museum of the Civil War.